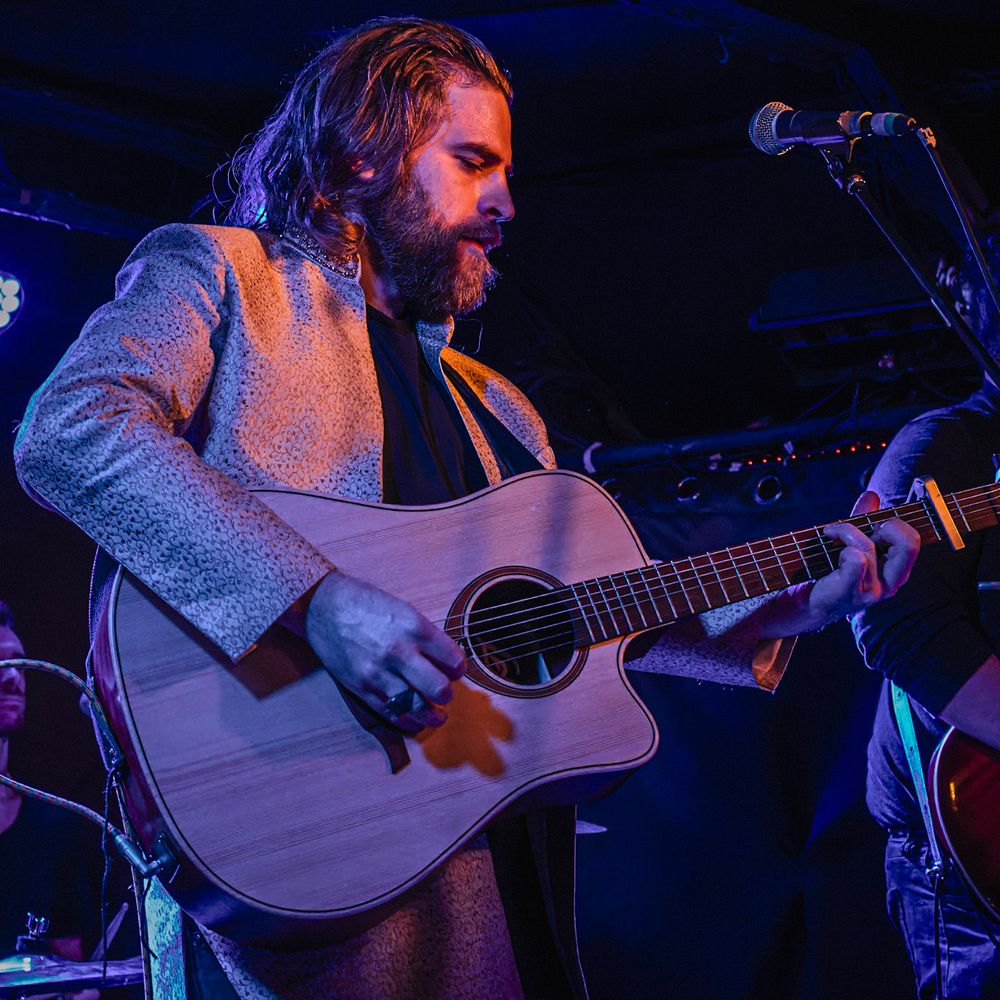 Biography
Étienne Belin is a French musician, author and composer from Paris.
Although rocked from an early age by the audio cassettes of his parents, an eclectic universe made up of Bob Dylan, Jean-Louis Aubert, Alain Bashung, Bon Jovi, Serge Gainsbourg, Robert Charlebois and many others, he did not embark on the music only late at sixteen. It was at this age, discovering the musicians of Anglo-Saxon streets and bars that he came back to listen constantly, that he made friends and shared the stage with them.
At the same time as his musical apprenticeship, he followed dramatic arts studies at Cours Florent which led him to create with friends the play "La Fabrique" directed by Hugo Horsin (award-winning play), a mixture of musical comedy and clown theater. inspired by Deschiens, Jacques Tati, Jerry Lewis and Charlie Chaplin.
He also composed the music for two other pieces "We alone know what we have suffered" re-adaptation of "La Cantate à Trois Voices" by Paul Claudel, edited by Laura Aubert and "Fantasio" by Alfred de Musset (award-winning piece), ridden by Antoine Raffalli.
When he left Cours Florent, diploma in hand, he oscillated between tours with the actors of "La Fabrique" and concerts in Parisian pubs where he finally gave up the role of spectator to become an actor.
For more than ten years he continues to perform on major theatrical stages, in small bars and on the street as a musician / singer, accumulating more than a thousand performances to date. Sometimes accompanied by musicians encountered in the open stages, sometimes accompanying renowned musicians such as David Bartholomé in Belgium or Siobhan Wilson during a tour in Scotland, or sometimes alone with his guitar, his harmonica and equipping himself with two percussion instruments. feet, it is part of the lineage of one-man-band.
No longer limiting his location in Paris, he is called upon to play all over France as well as in Greece, Austria, Spain, Scotland, USA and even Belgium.
During his travels, he discovered an intense love for Celtic music, North American folk and British rock.
He decides in 2018 to release his first E.P. Five compositions in French (his mother tongue) and in English (the one who adopted him) with acoustic folk accents. He calls on Victor Mechanick, Laurent Marion, Junior Rodriguez, John Kang and Marion Elan Trigo to help him set his experiences as a night artist to music in this EP which he symbolically calls "The shadow under the moon" . Three years later alongside Nicolas Maillols he released the single "Héros", a promotional song for his next album "Obsidienne" (release in 2021), an album mixing British rock, North American and Celtic folk and French lyrics. Fundamentally more focused on electric guitars and heavy and catchy percussions than its predecessor "L'ombre sous la lune", this new album "Obsidienne" reveals a new facet of Etienne Belin's personality without forgetting the folk ballads of its origins.